History
Throughout time Great Ness has had a few changes in registration districts. In 1935 the Ellesmere district lost Great Ness to the Oswestry district and just over 30 years later, in 1967, Shrewsbury gained Great Ness and became its registration district.Coincidently the only major boundary change that took place was in 1967 when it was reduced to aid the enlargement of another parish, Kinnerley.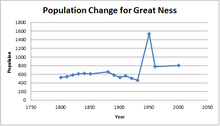 Population change in Great Ness from 1801 - 2001
Between 1881 and 2001 Shropshire has experienced a rapid population increase of 10.5% which is over twice as fast as the growth of England which is 4.8%. However the increase has not been due to natural growth but the migration of people into the area. Migration to the Shropshire area in 2001 were high with 13613 migrants moving into the Shropshire area, North Shropshire showed the highest overall level of net inward migration. This most likely to be explained by the inward migration of 933 people into communal establishments in the area, the RAF Shawbury, the Tern Hill Barracks of HM Youth Custody Centre. The population of Great Ness has generally followed trend and risen in population since the early 1800, but did experience a few centuries of decline from 1881 to 1931 where the population fell by 200 in the space of 50 years. However in contrast to this Great Ness experienced rapid growth from 1931 to 1951 reaching an all time high of 1536. The most recent count of Great Ness's population is from the 2001 census showing Great Ness to have a population of 807.
In general the early census reports were very simplified creating confusion with things such as the classifications of occupation, leading to issues like social status and what the individual workers did being mixed up. When the census report of 1881 more organised classifications were implicated covering over 414 categories.The graph below is made from the 1881 census report showing agriculture to be the most dominant occupation, accounting for over 50% of all males. Where as the majority of women were found to be working in domestic services of offices. Due to Great Ness lying to the north of the River Severn it receives fertile deposits which is how it resulted in settlement and agriculture. The river valleys crops indicate agricultural activity as far back as the Bronze Age. The majority of the area remains largely rural in character and sparsely populated.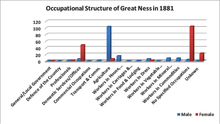 Population Structure of Great Ness 1881